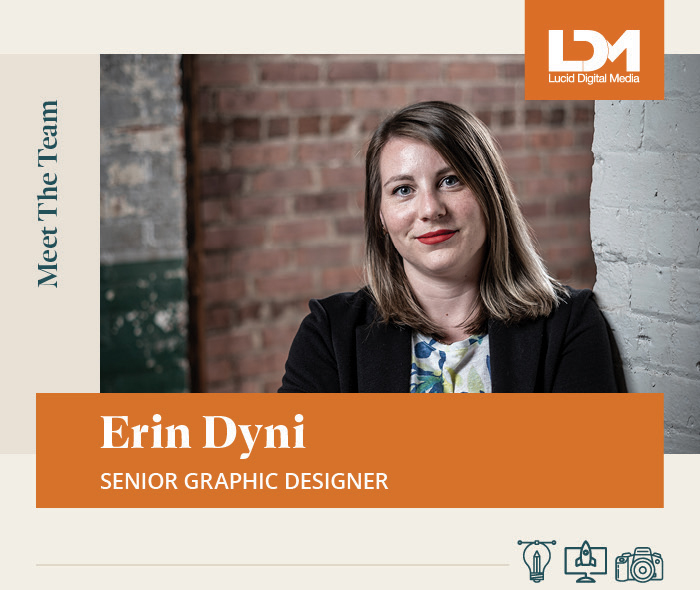 Seamlessly combining her analytical and artistic abilities, Erin sustains collaborative partnerships with our clients as our senior graphic designer. Guided by a strong belief in design as a problem-solving tool, she focuses on creating project solutions that achieve our client's goals, in both print and digital spaces.
With an exceptional attention to detail and ability to tackle challenging projects, Erin has been a versatile and valuable part of the LDM team for over a decade. Whether helping to launch a new brand or working with an established identity, Erin is able to leverage key elements to maintain a cohesive brand experience. She's happiest when she's pushing the capabilities of InDesign on large or complex print projects.
A native of Northern Ontario, Erin is fueled by books, music, rom-coms, and coffee with her donuts.

What does your workspace look like?
My digital workspace has to be clean and organized, but my desk can be a bit of creative chaos. I might have haphazard notebooks and pens, maybe a novel, and usually a plant. And I can't forget my coffee mug!
What's a favourite project that you've worked on?
Oh, the Farmers Depot product catalog! It's over 200 pages, has lots of data that needs to be presented in clear and distinct ways. We've been lucky enough to have worked on it annually since 2017, and every time I learn something new.
What's your go-to coffee order?
A Caramel Macchiato, usually with an extra espresso shot.
A word from our clients
"LDM has been helping with the production of our annual catalogue for several years now. Erin in particular, has been a huge help in automating, designing, and structuring the content. Although it is still a significant task, she has made a huge difference in the process and overall final product. Beyond the time savings, we are grateful for her insight and look forward to working together again next year."
Lisa DeGraaf | Systems and Admin Manager
Farmers Depot