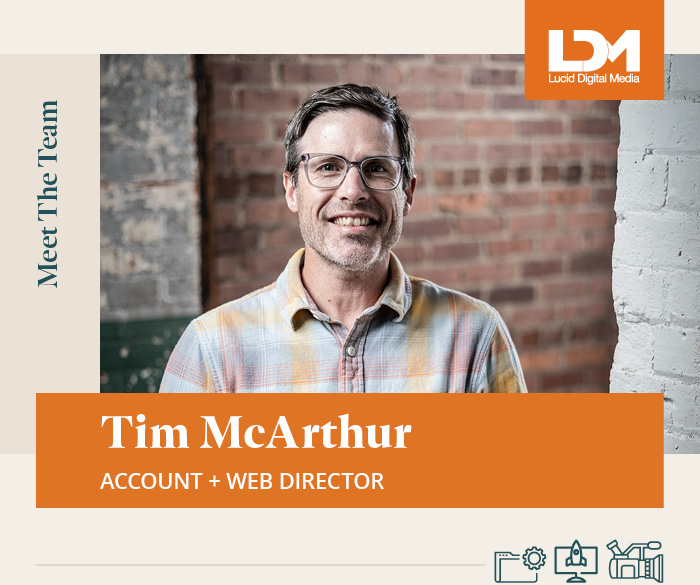 In 2008 Tim joined LDM, starting out as our door knocking, cold calling, sales and marketing specialist. A lot has changed since those days of chasing brochure designs and flash web projects, and while Tim will still handle the majority of new business leads, his role has shifted into account management and art/creative direction.
With an eye for design and a love of organization and clear communication, Tim puts together more than just quote proposals, leading our production team into action to find creative solutions and bring your vision to life.
Tim is married with 3 kids and spends most of his free time at a baseball diamond somewhere between Cambridge, London and Florida.

What does your workspace look like?
Organized but also a little eclectic. There's a macbook, yeti tumbler, handmade pottery, framed art, a scented candle (pine) and if all goes well an empty pastry plate.
What does a typical day look like?
I guess that's one of the things I like about my job, there isn't really a 'typical day'. It could involve an in-person or online meeting, directing a photo/video shoot (or acting in one), coordinating a website launch or drafting a proposal. It will inevitably mean reading and writing emails, basecamp comments and slack messages, but at least I can do that sitting or standing, at my desk or on the Galt Co patio.
What's your go-to coffee order?
Whatever we're brewing here in the office, or a Nespresso Odacio at home. With a splash of milk. I said a splash.
Project Highlight:

Flow State Bike Video
Flow State is a new business venture serving a local community, and they tasked us with collaborating on a video to highlight their vision, as well as the incredible riding options outside their door.
Was it also a good reason for Eric to get a new drone so we could sprinkle in some FPV shots in tight quarters? Yes.