Careers
Join the team

Full-time Senior Animator and Video Editor
Our Senior Animator and Editor will lead our video team, working closely with our Account Directors, Team Members and Clients.
We have as much fun as we possibly can, dreaming, building and delivering a variety of projects across a multitude of sectors.
Each day and project is unique, but our goal of exceeding Client expectations remains the same.
The Essentials:
Adobe After Effects and Premiere
2D Animation
A minimum of 3 years agency experience
More about the job (in a particular order):
Organization, time management and the ability to juggle multiple projects is critical
You'll be communicating with our team and at times with clients, so keep it clear and classy
Attention to detial. See what we did there?
Adobe Photoshop and Illustrator experience is a huge asset
You're creative and also know how to receive creative direction
You're not afraid to problem solve and finding answers
You just might have an interest in…

Shooting video
Sound mixing
Design and illustration
3D animation
Working here is pretty great. Just some of the perks…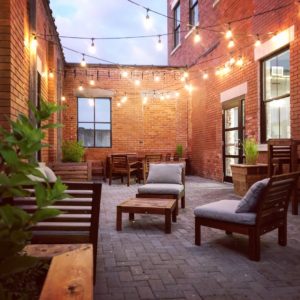 Coffee? Uhh yeah, we have a Jura serving up bottomless small batch coffee from Monigram Coffee Roasters.
Flex working. To keep the creativity and collaboration at 11 we've got a work station with your name on it. We'll also set you up with at-home network access and establish a work-from-home schedule that allows for a balance of both.
Open 8–5. Sure sometimes we work a little late to meet a due date, but most nights you're home at night for the kids, or dogs, or cat or houseplants… look you get the idea.
So what pairs nicely with great coffee? Our office is oh so close to Lady Glaze Doughnuts, Albert's Doughnuts and Red Eye Donuts. Or mention Donut Monster to Eric or Tim, they've been known to drive to Hamilton just for fritters.
Drinks on the patio, yes please. We have our own patio, but sometimes we still find ourselves at Old Galt Bottle Shop, located conveniently by the front door.
Resumes are great, and we will need one from you. Diplomas and degrees are fantastic too, but really,
we want to see your reel and how you can make pixels move.
If this sounds like your cup of tea, we look forward to hearing from you!